Hi folks,
It feels like it was just yesterday when I launched SharewareOnSale, despite the fact that we are almost at our three year anniversary. Time has flown by!
As we near our three year anniversary, we have continued to innovate at SharewareOnSale to make us more competitive in the highly competitive tech space. This post is to recognize our success over the past three years and to highlight some new changes at SharewareOnSale.
IT'S OVER 9000!
Over the past three years, we have grown to 787,705 members that have downloaded our 3,220 offers roughly 5,402,164 times. And we continue to grow at a breakneck speed!
Lovin' Mac, Android, and iOS — and games too!
Whereas SharewareOnSale originally started off focusing on Windows software, we now offer exclusive giveaways of Mac apps at our sister website MacAppsOnSale and feature regular giveaways and discounts of Android and iOS apps at HungryForApps. On top of that, we offer weekly game giveaways at FAILMID.
New Download Hub and Notifier
UPDATE: We've made changes to Download Hub based on your feedback. Click here to learn more!
We have introduced our new SharewareOnSale Download Hub and SharewareOnSale Daily Giveaway Notifier.
SharewareOnSale Download Hub is a downloader that assists you in downloading and installing our giveaways, plus gives you the option to download and install our SharewareOnSale Daily Giveaway Notifier. SharewareOnSale Daily Giveaway Notifier is a small program that provides you with desktop notifications whenever we have a new giveaway on SharewareOnSale.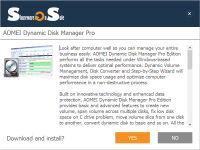 Please rest assured, our Download Hub and Daily Giveaway Notifier are completely safe. We do not install anything on your computer without your explicit permission; you are asked "Do you want to download and install" for every download / offer in the Download Hub and you must click "Yes" or "No". If you click "No", that particular download / offer is not downloaded and installed. We will never, ever download and install anything on your computer without your explicit permission.
If you click "Yes" to download and install the main giveaway, our Download Hub downloads the installer (or portable files, if it is a portable program). After the installer is downloaded, Download Hub launches the installer — we do not automatically install it for you. You go through the installation steps of the main giveaways.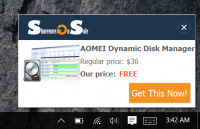 If you click "Yes" to download and install our Daily Giveaway Notifier (screen to the left is an example of the desktop notification by Daily Giveaway Notifier), we automatically install and set that up for you — you need not do anything further except for clicking "Yes". You can easily uninstall Daily Giveaway Notifier from Add / Remove Programs at any time, if you decide you no longer want it.
If you have any questions, comments, or concerns about our new Download Hub or Daily Giveaway Notifier, please send me an email to admin [at] sharewareonsale [dot] com and I'll be glad to assist.
We Need Your Help
As we continue to bring you awesome new giveaways and discounts, we need your help. What can you do? Firstly, come back daily and take a look around. If you don't find anything that you want, no problem! You never have to download / purchase anything that you don't want. But, please, do come visit us.
Aside from coming to SharewareOnSale, spread the word about us! Email your friends and family; share our offers on Facebook, Twitter, Google+, etc. The more people that know about us, the better offers we can bring you.
Going Forward
We will continue to innovate in order to improve our services, and we hope you will continue to join us on this exciting ride.