Hello SoS'ers,
Running software giveaways is very easy. Running software giveaways properly is hard. There are far too many slimy companies out there that are more than willing to violate user trust — and, sometimes, security — to make a quick buck. We do our best to shield our members from these slimy companies; we have various rules and checks in place to protect our members. Unfortunately, we are not perfect and we sometimes make mistakes. The recent giveaways of Hide My IP and Auslogics Disk Defrag Pro were two such mistakes.
Before I delve into the details of what happened, here is some background on how SharewareOnSale works.
For the vast majority of the giveaways we feature here on SharewareOnSale, we partner directly with the developer in question to offer their software for free; in other words, SharewareOnSale exclusive giveaways. However, sometimes the giveaways we run on SharewareOnSale are not exclusive to us. As long as the giveaway is legitimate, we have no problem sharing giveaways even if they aren't SharewareOnSale exclusive. In the three years we've been operating, we've come to learn developers appreciate us advertising their software, even if it isn't a SharewareOnSale exclusive giveaway. With the exception of a handful giveaways, we've never had a problem with non-exclusive giveaways.
The recent giveaways of Hide My IP and Auslogics Disk Defrag Pro were two giveaways that were not SharewareOnSale exclusives. The giveaways were an Easter special run by WonderFox Software. We've partnered with WonderFox Software in the past on many occasions; this time, they emailed us and requested that we share the giveaways they are offering for their Easter special. Happy to help a valued partner, we shared the giveaways of Hide My IP and Auslogics Disk Defrag Pro.
Per WonderFox Software's directions, both Hide My IP and Auslogics Disk Defrag Pro were 1-year licenses and we advertised the giveaways as such. However, it now looks like both Hide My IP and Auslogics have decided to behave unethically and are invalidating the 1-year licenses they agreed to do a giveaway of. In particular, Hide My IP is claiming the giveaway was only 1-month license and that one month has expired. In the process, they are claiming our giveaway of Hide My IP was illegitimate.
UPDATE: There seems to be some confusion. Please note, I am NOT talking about people trying to use the Hide My IP and Auslogics Disk Defrag Pro giveaway license keys after April 18. The deadline for the giveaway was April 18 and anyone trying to use the keys after did and should get an invalid license key message. This is not the problem. I am talking about people who used the license keys BEFORE April 18, successfully registered the software, and then a week later the license keys were made invalid. This is the problem.
Hide My IP's claims are complete lies, for three reasons. Firstly, WonderFox Software clearly stated Hide My IP giveaway was of a 1-year license. Secondly, it has not even been a month since Hide My IP's giveaway — even if what Hide My IP says is true and the giveaway was of 1-month license, one month has not even passed since Easter at the time of this writing (it has only been roughly two weeks)… so how could the license be expired now? Thirdly, our giveaway of Hide My IP was not illegitimate; it was not a SharewareOnSale exclusive, yes, but it was not illegitimate — we were asked by WonderFox Software to share the giveaway.
UPDATE: I've talked with WonderFox Software and confirmed that Hide My IP told WonderFox Software that the giveaway was of a 1-year license, not 1-month!
While I have not heard from Auslogics why they are doing the same thing as Hide My IP, I am getting reports that they too have invalidated the license key of Auslogics Disk Defrag Pro. Here is proof that both Hide My IP and Auslogics Disk Defrag Pro giveaways were of 1-year licenses: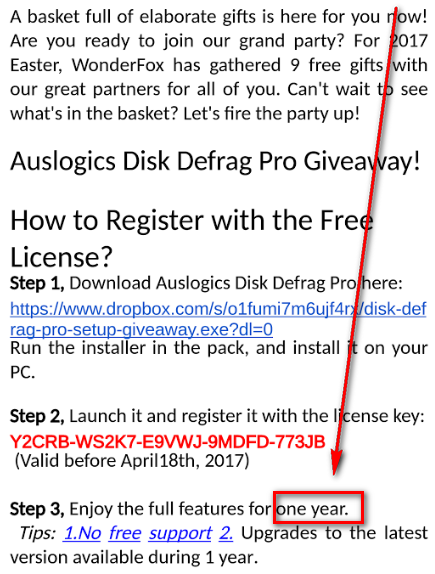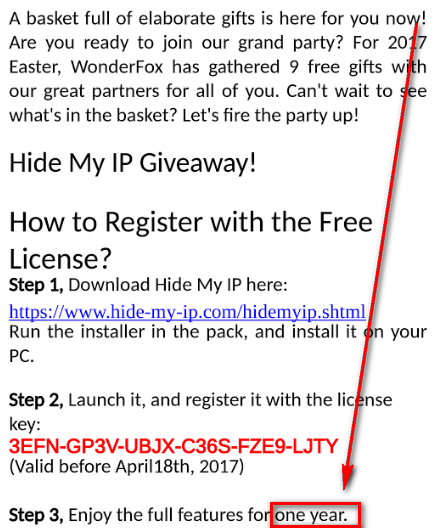 In my opinion, this is very shady behavior by both companies. I sincerely apologize for the problems our members have faced and rest assured, we are putting more checks in place to ensure this doesn't happen again. Stay safe everyone.
Take care,
Ashraf
Mr. Boss @ Azadi Network LLC